We've launched a completely revamped version of GrowSurf, packed with a whopping set of new features that will help you grow your business. Check it out at https://growsurf.com!
---
We're excited to unveil GrowSurf 2.0.
Thank you to those who contributed your feedback and help in redesigning GrowSurf to make it the referral platform that works for you.
Whether you're running an e-commerce store or a SaaS startup, GrowSurf 2.0 is a fully-fledged referral marketing machine that unlocks the potential lurking in your business and puts growth on autopilot.
For existing GrowSurf 1.0 users, click here to learn about next steps you'll need to take.
Here's what's new:
More reward types
You asked, we delivered. You can choose from a flexible list of reward types: Single-sided, Double-sided, Milestone, and Leaderboard rewards.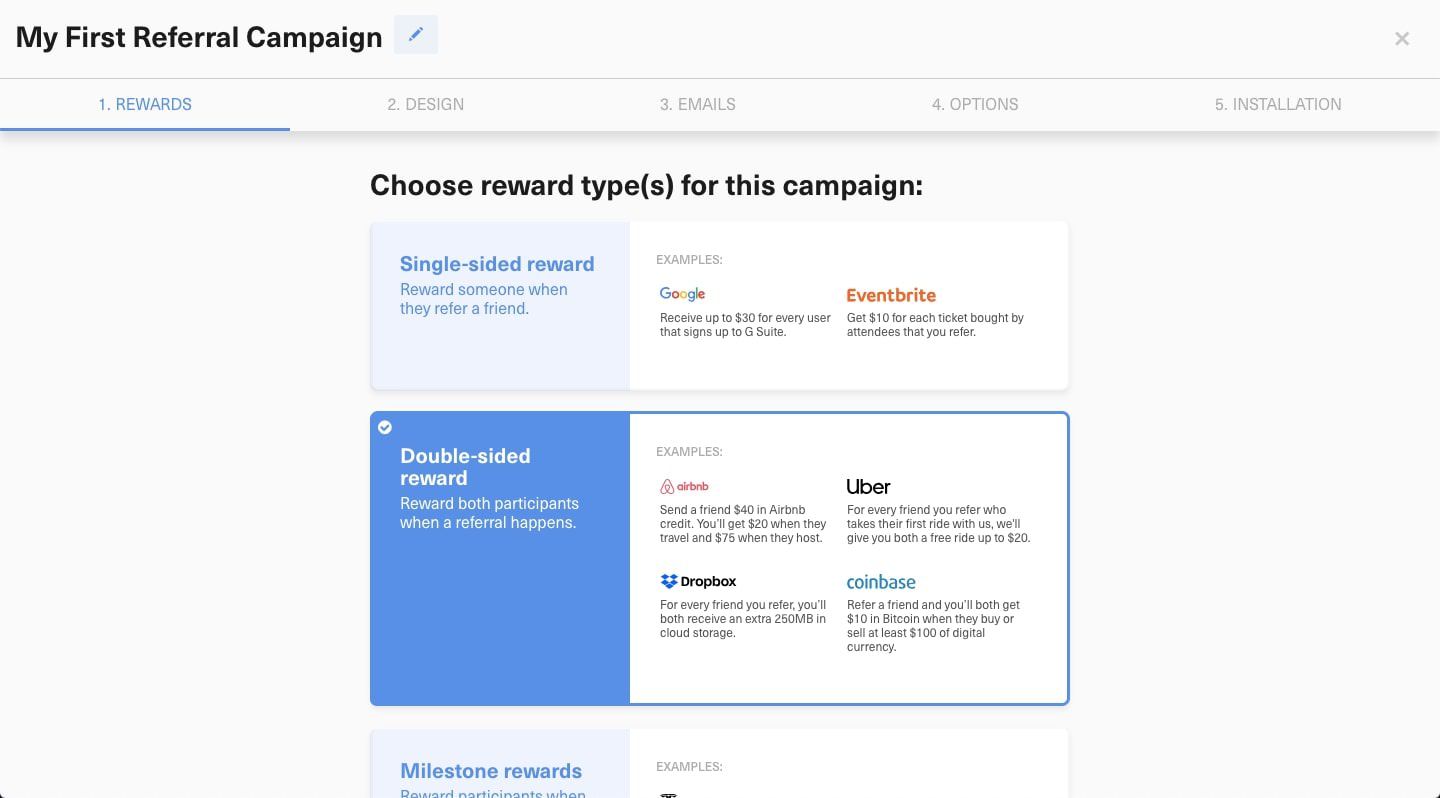 Automated email marketing
Emails are the backbone of a referral campaign, and that's why they are now directly integrated into GrowSurf. Select and customize the emails you want to send to your participants, including welcome emails, reminders, reward alerts to winners, and more.
Full customization of the GrowSurf window
Need custom content displayed or images inserted? Not an issue. Use our WYSIWYG editor to fully customize the contents within the GrowSurf window.
Need a different language? No problem. You can fully edit all the text displayed in the GrowSurf window to the language of your liking.
Use your site's existing forms
With GrowSurf 1.0, you needed your website visitors to enter their email using a GrowSurf form. Not anymore! If you already have a signup/subscribe form on your site, GrowSurf will automatically detect it and add form submissions as new participants in your referral campaign.
Works on multiple URLs
Let's say you want your a participant's referral link to be your website (https://mybusiness.com), but new visitors to your website sign up (or purchase your products) at a different URL (https://app.mybusiness.com/signup). With GrowSurf 2.0, you can choose the main URL you want to use for referral links, and we will automatically detect and provide referral credit regardless of the URL.
A new campaign editor
We've gone back to the drawing board with our campaign editor. Setting up a GrowSurf campaign is easier than ever. We'll take you step-by-step in the simple process of creating a successful referral campaign.
We've included examples from top referral programs, as well as tips so that you can maximize your chances for success.
Use webhooks to automatically issue rewards and/or sync data
Webhooks let you perform an action when a certain referral event occurs (e.g, send money to a participant via PayPal when they reach a reward goal, create a new Mailchimp contact when a participant is added to your campaign).
Webhooks are now completely free to use!
Analytics
Find out, at a glance, how your campaign is performing with our new Analytics feature. View campaign performance, conversion rates, and social channel performance. We'll give you takeaways on key insights as well.
Fraud detection
Toggle a switch to enable anti-fraud measures. Review and disqualify suspicious participants.
You can also choose to manually review and approve all participants who have reached their referral goal(s).
GDPR compliance
Ask people for their consent before capturing their email on the GrowSurf window form.
Easy installation instructions
We've included specific installation instructions for popular web platforms, so that you don't have to spend mental energy in figuring out the right steps.
Improved dashboard
View your participants in detail, and manage their rewards.
Participants now have an activity section, where you can see their history (e.g, how/when they signed up, who they referred, what social platforms they shared on, etc).
Customize the referral credit window
When someone visits your website through a referral link, GrowSurf will remember the referrer for a certain window of time in order to credit them with the referral. You can adjust this expiration window.
Notifications
Choose to be notified via email when important events happen in your campaign
(e.g, when a participant reaches a reward goal, when a new participant is added to the campaign, when the campaign ends).
REST API
For developers who want to run more advanced referral programs, you can use our REST API.
New pricing plans
We've rolled out a new set of pricing plans based on usage. No credit card is required to start, and plans include a 14-day free trial.
View full details of pricing here.
Bug fixes and new technical architecture
GrowSurf 2.0 is rebuilt from the ground up, and designed to be more reliable, accurate, and stable than the previous version. Here is a list of notable resolutions and improvements:
A complete overhaul in the GrowSurfJS client architecture introduces promises and asynchronous requests
GrowSurf no longer processes requests synchronously. This means we can handle an increased amount of requests at the same time much quicker.
Server downtime was bad in the last couple of months for 1.0, as the architecture could not handle scale properly. GrowSurf 2.0 is rebuilt with scaling in mind and has a different technical structure to avoid the many technical pitfalls that 1.0 experienced.
Inaccurate contact counts and referral counts are resolved in 2.0 campaigns.
In GrowSurf 1.0, importing a large list of contacts would fail at times. This is resolved in 2.0, as contact uploading is now handled in batches, instead of one bulk upload.
We've switched hosting providers and scaled our servers to handle the increased traffic and network requests to scale with user growth.
---
Please note that this is a beta release, and thus you may encounter a few bugs under the rug. Please do report any issues you find by submitting a ticket or via chat widget on our website.